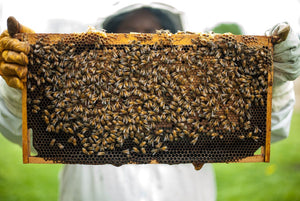 Adopt a Bee
Sale price Price $5.00 Regular price
For less than the price of a cup of coffee, you can make a lasting impact on the world. "Save a bee save the world" is a simple slogan but it has so much more meaning!
That's our motto, and if you're as serious about saving the world as we are, this is one way you can truly help.

What You Will Get for Adopting Bees
🐝 $5+ Official certificate of adoption

🐝 $25+ Bee Contest entry, Certificate, Kids "Hello Little Bee" Audio book.
🐝 $50+ Certificate, 2 Contest entries, Kids "Hello Little Bee" Audio book.

🐝 $100+ A shout out on our Instagram page, Certificate of adoption, contest entry, Kids "Hello Little Bee" Audio book.
Here are a few of the ways we make a difference:
Building bee hives, and placing them on local farms to help pollinate the local farmer's crops. 
Youth education programs to create an interest in beekeeping and farming for future generations.
Planting of new wildflower gardens wild bees can collect pollen from.
Creating jobs for those who manage all of the hives and gardens.
Your contribution while it may seem small will go a long way in helping us to repopulate the world with healthy bees. Adopting a bee with us means you'll be helping a blossoming bee species to thrive, and supporting a local beekeeper. Plus, the extra benefits are pretty sweet too!